Essential Magento Security Tips to Protect Your Ecommerce
Magento is an open-source eCommerce platform. It holds the records for being the launchpad for an estimated 250,000 online stores. Magento has remained a dominant force in the eCommerce scene since its inception.
Charts from Bestplugins reveal that the number of Magento plugin downloads has increased steadily since 2008 when the platform was first launched.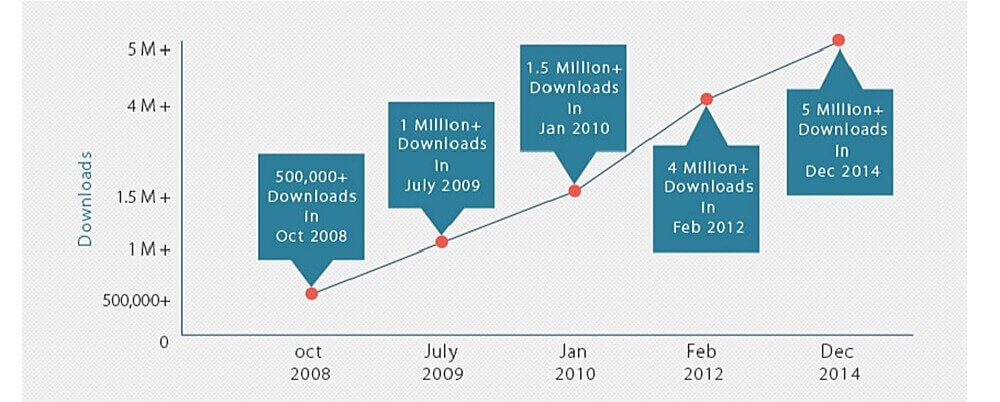 And as with anything on the Internet that is popular, Magento is also a juicy target for hackers. After all it is the platform upon some of the most popular online stores are built. Getting hold of the platform is like holding a large chunk of the eCommerce industry for ransom.
Tha brings us to the question. How to secure a Magento store from security threats?
There is no single turn-on-turn-off button that will secure your Magento store. You have to setup several security checks that will insulate the store from hacker infiltration.
Unfortunately, not many Magento store owners follow security checks that will safeguard their stores. A study by Astra found the following shortcomings:
62% of online stores display at least one security vulnerability
14% of stores display more than 4 security flaws
60% stores display the SWF uploader open vulnerability
49% of Magento stores do not have SSL encryption
Here are some tips to help you secure your online store from cyber threats.
Enable Two-factor Authentication
Two-factor is one of the sturdiest ways to secure any sensitive information. Even Gmail – the most used email service comes with two-factor authentication. Unfortunately, not many users are aware of this facility and how it can be used for online security.
For Magento, there are several third-party extensions available in the market. Rublon is one such reliable Magento extension which users can install on their smartphones for safe access.
Instal Updates On Time
Magento has a dedicated security center where the latest security updates and patches are released on a timely basis. Users can gain detailed documentation about what each update means for their Magento website and how it will help secure their store.
Schedule Periodic Backups
Online stores hoard tons of data relating to customer payments, profile, delivery, chargebacks and many others. This information is a treasure trove for hackers. With the power of social engineering, hackers can trace back the digital identities of naive customers and steal their vital information.
There is a necessity to keep such sensitive information barred from the hacker's reach. Hence, the need to schedule periodic backups. Even if the data online is taken over, there is always an offline backup that you can bank on to put your store back on its feet.
Setup A Firewall
A firewall is a turnkey software that monitors incoming and outgoing traffic in a network. For Magento stores, it is recommended to adopt WAF (Web Application Firewall) which will give complete immunity from serious cyber threats like brute force attacks, SQL Injection, bots, spam emails, DDoS attacks and the likes.
Amazon AWS offers sturdy WAF options. There are several other firewall services too that can secure your online store. Additionally, there are Magento extensions, like the one from Sucuri that can provide continuous security monitoring and protection.
Configure A SSL Certificate
An SSL certificate is necessary for several reasons. First of all, it encrypts all information that is sent and received between the website and the users. By encryption, we mean the information is scrambled so that no other user other than those with the public and private keys would be able to access it.
Further, SSL certificate instills trust in customer minds. Studies have proven that customers abandon shopping carts if they have security concerns about the online store. An SSL certificate gives the HTTPS prefix on your address bar. For net savvy customers, it is the hallmark sign for Internet security. So, configuring an SSL certificate for your Magento store not only secures it, but also helps win trust in customer minds.
Set A Custom Admin Panel URL
By default, Magento websites come with the URL: my-site.com/admin. For an experienced hacker this a straight door entry using brute force attack mechanism. Hence, the need to set a custom admin panel URL that hackers cannot easily spot and barge into.
You can set a custom admin panel URL for your Magento store with the following steps:
Locate /app/etc/local.xml
Find <![CDATA[admin]]>
Instead of "admin" use any other custom term
You're done!
Monitor Suspicious Activity
Most security attacks happen when you don't pay attention to anomalies. You can spot abnormal activity on your web page only if you monitor the traffic, user log and other changes on a consistent basis.
This might seem to be a tedious task to do exclusively. You can always bank on Magento extensions like the one from Amasty that will update each time some abnormal activity takes place.
You can even set notifications or alerts so that prompt action can be taken to prevent damage.
Magento is the most popular eCommerce platform is used by all kinds of users. Naive users who do not know how dangerous the cyber world can be might fail at setting up basic security systems that might compromise their website's security. Don't let your website become a victim.
These Magento website security tips should help keep your Magento store safe from getting hacked. Don't take this as an ultimate checklist. There is still more that can be done to maintain your online safety. After all, cybersecurity is an ongoing process. There is no final end to it.
If possible, run a preliminary security audit to spot flaws that need to be addressed immediately. The rest of the activities can be implemented one task at a time.
Good luck staying secure online.